A.I.R. was founded in 2011 as a result of a simple observation: people are tired of the chemicals, gasoline-powered equipment, and practices that are used to take care of the environment, but landscape businesses have not adapted. This mismatch led Zack Kline to create the vision for the natural, organic (n.o.) land care experience and to develop A.I.R.'s service platform to support it. With our services, property managers and owners can make a difference with the environment while still having a beautiful property. A.I.R. is on a mission to improve and renew the atmosphere by making the world more natural and organic, one piece of land at a time.
The Story Behind Our Story
RAISE YOUR HAND if you know a landscaping or lawn care business that disturbs you with the use of their gasoline-powered equipment, applies harmful chemicals or pesticides to landscapes and lawns, or is doing more harm than good for the environment. Chances are your hand is up. We all know landscaping and lawn care businesses that are like this. There are millions of them.
Now, raise your hand if you love being disturbed by the air and noise pollution from gasoline-powered equipment, exposed to chemicals and pesticides that are applied to landscapes and lawns. How about door fliers, coupon books, and promotional material in the Spring when you are just looking to read your mail? No hands up? Didn't think so. And, as it turns out, most other people share your sentiment.
The problem is that there's a fundamental mismatch between how landscaping and lawn care organizations are performing their services — and the way that people actually want to be serviced.
The story behind a startlingly simple observation
When Zack Kline was in the 6th grade, he was instructed to cut the family's grass. A task that most kids dread, Zack quite enjoyed. He continued to take care of the family's lawn and in 2007, the summer he graduated from high school, he began working for a small landscaping company.
It was during this summer that the idea for A.I.R. came about. It was a scorching day in Darnestown, MD, and Zack was working on trimming the edge of a 2.5 acre property. He became irritated at the excessive amount of smog and the loud noise the string trimmer exerted. That, coupled with knowing the amount of gasoline the company was putting into their machines on a daily basis, had Zack thinking, "There's got to be a better way!"
The better way? A.I.R. (Atmosphere Improvement and Renewal) Lawn Care. Zack developed a business plan and entered Salisbury University's Bernstein Business Plan Competition in 2010, in which he took honorable mention. He honed his plan and came back the following year, winning the $5,000 first place prize. With that grant, A.I.R. was born – he put a down payment on a truck and purchased electric lawn equipment.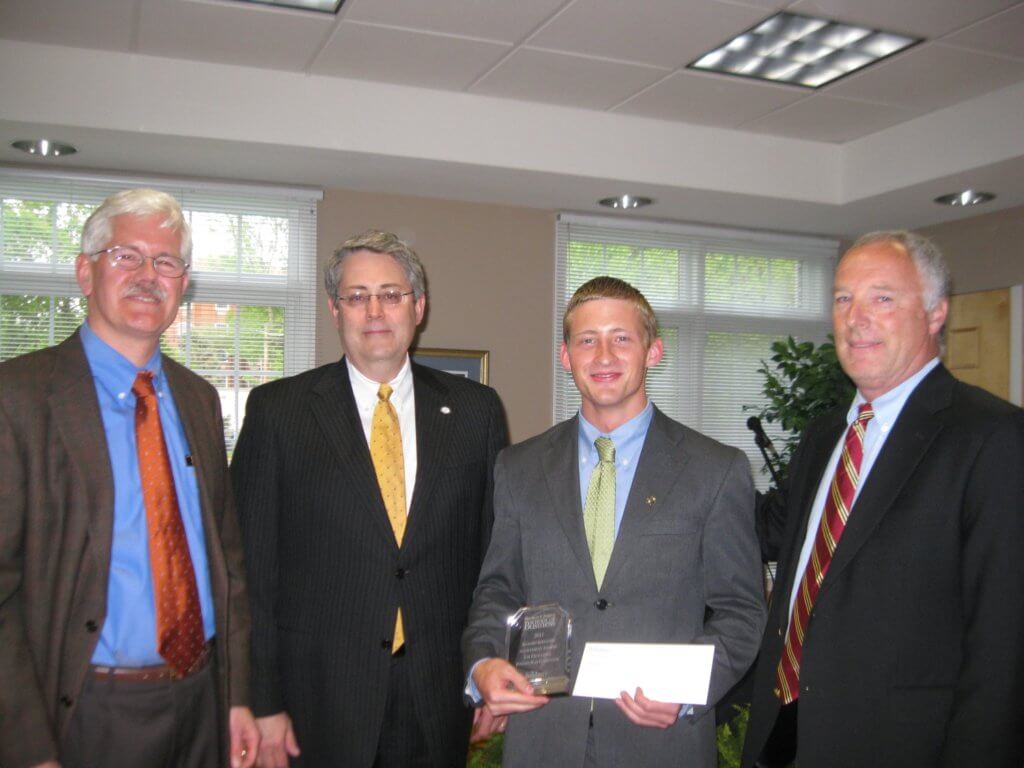 Pictured above: Dr. Stephen Adams, Director of Bernstein Business Plan Competition, Bob Woods, Dean of Perdue School of Businss, Zack Kline, and William Burke, Chairman of the Student Development Committee
Zack has been able to develop direct, personal relationships with his customers. He gets to know his clients, their children, their interests, and so on, because it's the little things that matter most. It was, indeed, little things and attention to detail that led Zack to a leading manufacturer of outdoor power equipment and connections to some of the green industry's top professionals.
Zack was planning to purchase battery-powered equipment and was in the midst of extensive research into companies and products that would be the best fit for A.I.R. He settled on STIHL battery-powered equipment and found that the president of STIHL Inc., Fred Whyte, was an avid bagpipe player. So, along with a letter introducing himself, his company, and his decision to purchase STIHL, he sent Mr. Whyte a pair of bagpipe cufflinks. Soon after, he received a personal phone call from Mr. Whyte to thank him for his gift, and the conversation turned to Zack's business plan.
Mr. Whyte was so impressed with Zack's commitment and attention to detail, he asked Roger Phelps, promotional communications manager for STIHL Inc., to meet with Zack personally. After a thorough review of Zack's business plan, STIHL Inc.m made the decision to help him start his business by providing several pieces of their battery-powered equipment. Phelps, who is also a board member of the NALP, the National Association of Landscape Professionals, made a personal introduction for him to NALP staff who were also impressed and provided Zack a 1-year complimentary membership.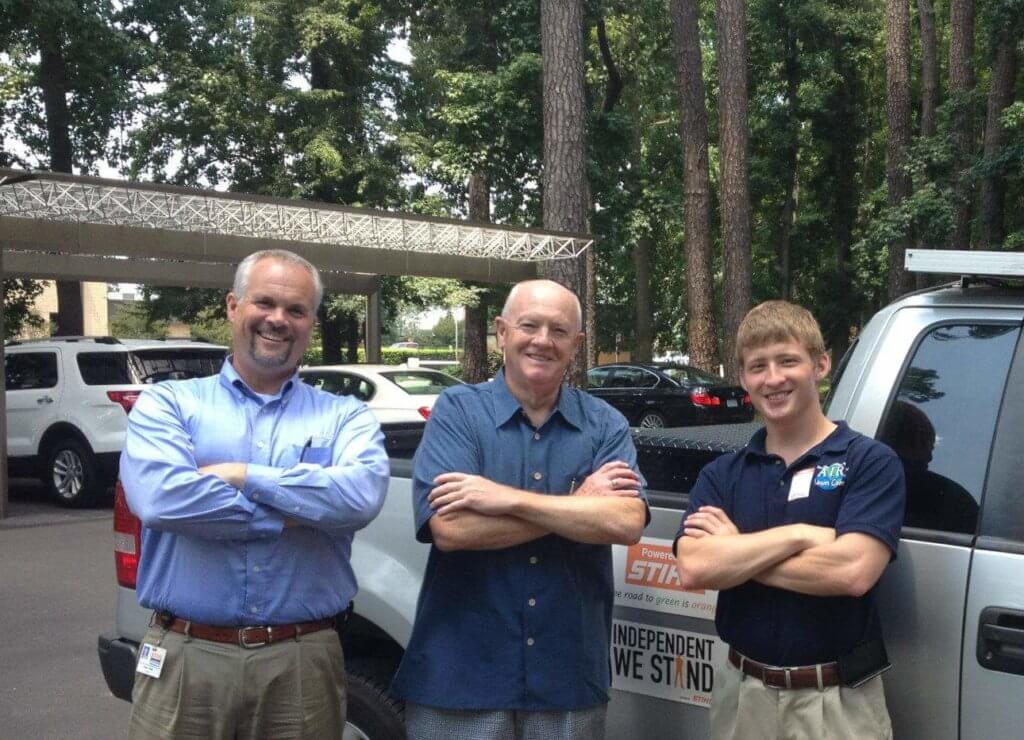 Pictured above: Roger Phelps, Promotional Communications Manager at STIHL Inc., Fred Whyte, President at STIHL, Inc., Zack Kline
Since then A.I.R. has grown year after year setting the standard for other green businesses.
Battery-Powered Equipment, Natural Organic Lawn Care, Robot Mowing, Sustainable Designs: the future of landscaping and lawn care
The next question was — if the concept of eco-friendly landscaping and lawn care was so easy to understand and inspiring, why weren't more properties doing it? Why were millions of property managers and owners sitting on the sidelines instead of tapping into the power of this transformation?
The reason was clear: they did not know it existed. There were battery-powered maintenance services, sustainable design firms, and organic lawn care companies, and on...and on...and on. Many of these individual services were great — but the task of offering them together was unheard of.
The issue wasn't a lack of services, but that there were too many. Too many products to learn. Too many homeowners to educate. Too many bills to pay. And, too many phone numbers to call for help. We wanted to stop the madness.
We started A.I.R. with one simple goal: Make it easier to get going with eco-friendly landscaping and lawn care, so property managers and owners could get their properties to be more sustainable. One company to learn. One company to remember. One company to pay. And, one phone number to call. One integrated eco-friendly landscape management company, designed from the ground up to transform how property managers and owners take care of their properties.
Getting property managers and owners off the sidelines and into the game
Nothing is more powerful than an idea whose time has come. We started talking about this transformation in how landscaping/lawn care companies operate. We called the traditional method "conventional" — because it was fundamentally about designing, building, and maintaining for human convenience and started calling the new way "natural, organic, and sustainable," which was the way things worked well before humans existed. Eco-friendly landscape management is about doing what the green industry should be doing — preserving and protecting our most precious resource.
The response from everyone has been positive and incredibly exciting. Eco-friendly landscaping and lawn care is an idea whose time has come!
Our team makes our company what it is. We hire for sustainability aptitude over experience, and we pride ourselves on attracting and retaining people with PASSION. We also believe in radical transparency, so we publicly share A.I.R.'s Culture Code for anyone who was interested in our values and approach to work. At the core of what drives us is one simple phrase, "Improving and renewing the atmosphere." This focus is more than a mantra; improving and renewing the atmosphere is evident in the services we offer, the support we provide, and the way we market and sell. And doing so makes us green with envy.
Natural, Organic (N.O.) Land and Lawn Care Movement
With increased urban development, awareness of climate change, and people looking for landscape management that does not disturb them or cause harm to themselves, their children, their pets, or our most precious resource−the environment. This demand is what led Zack Kline to start A.I.R. in 2011 and create the vision for the natural, organic (n.o.) land care experience.